We sell supplies for 3D printing (PLA filament)
PLA, or polylactic acid, is a commonly used thermoplastic material that does not require the use of a heated print bed.
Combining a mixture of plant-based materials and polymers creates the PLA (polylactic acid) filament for your 3D printer, making this material more earth friendly. Due to the lower melting temperature and lack of deformation, PLA coatings retain their color vibration and are a common choice for home displays or small prints. The 3D printed object will have a semi glossy to glossy finish type depending of the g-code settings. Buy it in our store, we have various colors and accept special orders.
3D Printing Services
At Multitask Technology we offer the service of monochromatic 3D prints. You choose the color to print. If the part is larger than the printing bed, they are printed in parts and assembled.
How to quote?
Send us the file of the object in STL or OBJ format to: ventas@multitask.com.pa Let us know the quantity of objects to print, color and dimensions. With that information we can calculate material and printing hours, with which we can send you a quote.
3D Printers
If, due to your workload, or simply as a hobby, you wish to purchase a 3D printer, you can order Prusa Printers from us, we deliver it to you assembled or in the box.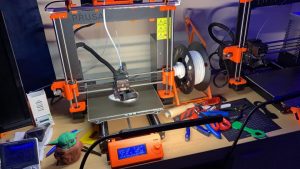 During quarantine, you can send us an e-mail to ventas@multitask.com.pa or call to 507-836-7132
We are in Panama city, Panama.